How much does it cost to hire a live wedding band such as late last night??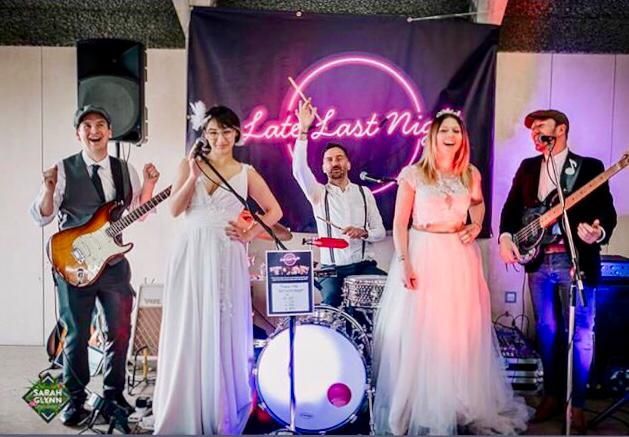 BOOK LATE LAST NIGHT HERE
We offer a huge variety of options when booking. Below are a number of features we offer. Don't hesitate to CONTACT us if there is something you would like that isn't listed.

 Innovative, Flexible and Exciting Live Music 
Tailor your live music from our extensive repertoire or request your favourite tunes if they aren't on our list. Perfect for first dances or ending your evening. We can rearrange songs into a style of your choice to give your evening its own individual sound. Our line up can be altered to meet your needs and budget. Our trio of vocals with guitar bass and drums can be supplemented with keyboards, horn section, backing vocalists etc. We can also strip back our set up and provide acoustic music for daytime performance. 
Background Music Playlists 
Music for your dance floor without the full price of a DJ! Playlists before, between and after (30mins no charge) our live set is included in our prices. Provide us with the playlist or leave us to select the tunes. Longer music after our set is available, see prices below. 
  
Full Lighting and PA System 
We provide full lighting and sound equipment for the evening. Fully PAT tested to satisfy any venue/event company requirements. You are welcome to use it for announcements and evening speeches too. 
  
Professional and Friendly Conduct 
Late Last Night are formed from experienced, professional musicians who have decades of collective experience in the music industry. We hand select any additional members from our roster of session musicians. All performers are covered with Public Liability Insurance. 
Booking and Rates
Our rates vary depending on the line up requested, set lengths, number of sets and if you want daytime acoustic set.
£1100 - 2 x 45 minute sets.
£1265 - 2 x 1 hour sets.
£1375 - 3 x 45 minute sets.
£330 - Daytime acoustic set. (reception OR ceremony)
£Contact to discuss - Full daytime acoustic service (reception and ceremony) plus evening reception.
£110 – Longer playlist after our live set. 30 minutes free. 
Travel – Events over 100 miles from Manchester may incur fuel costs / accommodation costs.
We are an electric trio of guitar, bass and drums, and extra players/instruments can be added for £180 - £250 for each player (depending on the package selected above).
All above packages include:
Set list selection. See REPERTOIRE page.
Learning important songs such as a first dance or last song of the evening.
Full PA system.
Lighting for the band and immediate dance floor
Music playlists between sets (including 30 minutes before and 30 minutes after our performance). Longer playlist provision after our last set is optional for a £110 fee.
Videos are great but if you want to see us live see our public GIGS page
If you have any questions or for bespoke quotes use the CONTACT page or email latelastnightmusic@gmail.com
 
To book use the CONTACT page or email latelastnightmusic@gmail.com