Yes we know it's October but as a lot of us are already thinking about how to organise ourselves for the perfect work do this Christmas, we thought we'd give you our top 5 suggestions to really make it slap. 
---
#1 SORT YOUR CHRISTMAS PARTY JUMPER 
Essential item in the festive wardrobe, the first question you need to ask yourself is when can your start wearing your Christmas Jumper? 
Personally it comes down to whether the sweater passes as an everyday item, or whether that bright LED Rudolph nose is a little too Christmas-y for mid November. 
Whenever you decide you MUST wear it proudly and unironically, the idea is to look a little silly so even if you are a kick-ass live function band there's no escaping it. 
What Christmas outfit's will Late Last Night be wearing this season? This year Mike will be rocking his funky Sunderland Christmas Jumper, you may see it in action at our upcoming public gigs.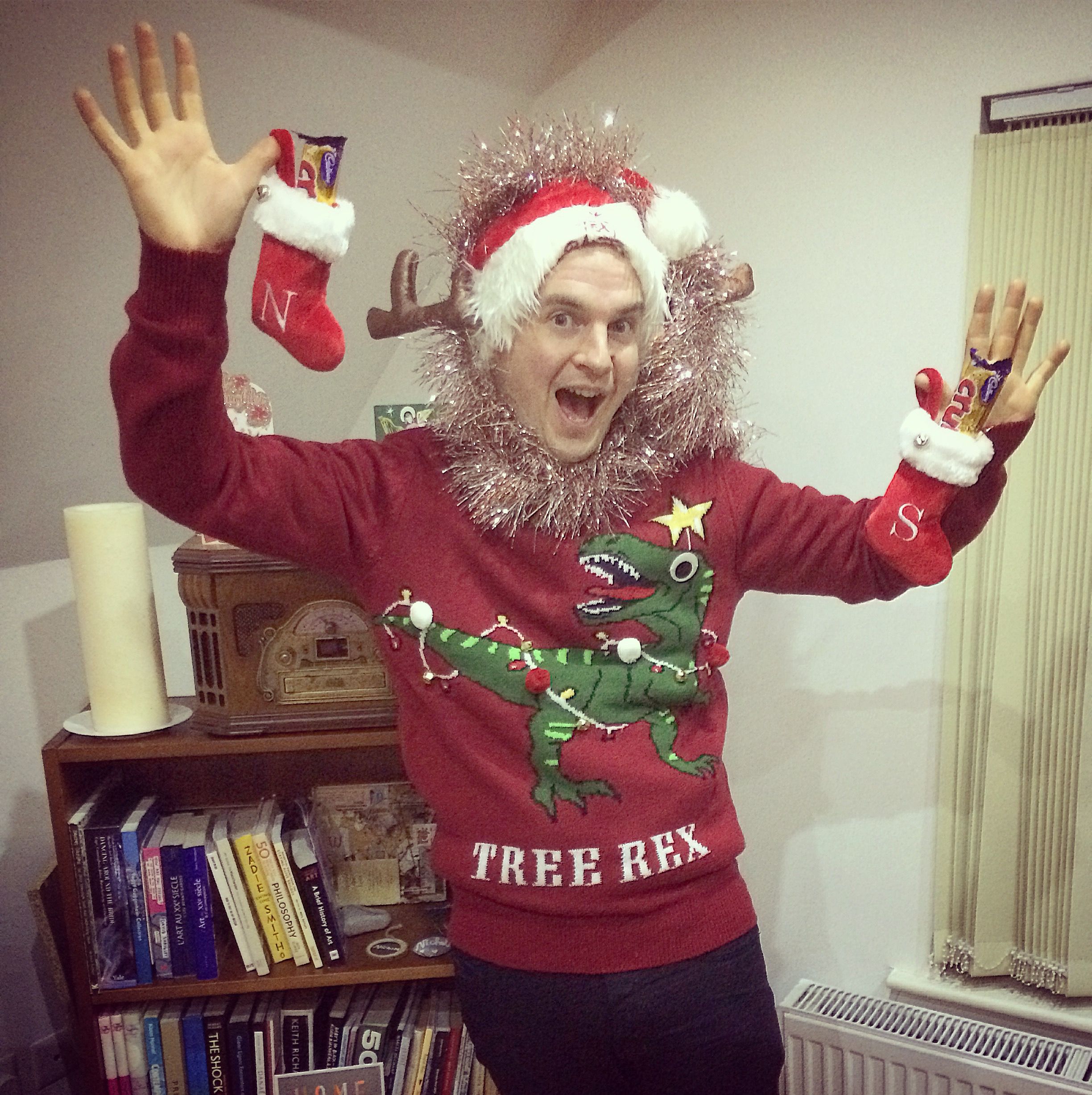 ---
#2 WHAT CHRISTMAS PARTY SNACKS & DRINKS SHOULD YOU LAY OUT? 
When it comes to Christmas food who could look past the humble mince pie to offer your colleagues on entry, keep it simple and go for a plain all buttery or plant based packet. 
There's nothing more warming and festive than a glass of mulled wine for your guests, the quality of the red wine you use doesn't need to be very high as it's mostly just sugar you're adding to the mix. Get yourself a large water boiler and scale up your favourite recipe, you'll be sipping on cozy Christmasness in no time. 
As for Late Last Night, wanting to keep on our A-game we prefer to have soda waters with a slice of lime, perfect beverage for the working function band. 
---
#3 THE BIG OFFICE SECRET SANTA REVEAL 
Ah the long-standing tradition of the Secret Santa is still as corny today as it ever was. It's easier than ever to organise for your corporate Christmas party with generator sites anonymously matching up colleagues for you for free. Do set a price limit and keep it light-hearted, how else can you know exactly what to buy for that difficult person in your team? 
---
#4 CHRISTMAS WORK DO MUSIC PLAYLIST 
Everyone has their own favourites and we've compiled a list of our own here to get you started, some of the classics have become so engrained over the years that it wouldn't feel the same without leaving a few in. 
---
#5 LIVE BAND FOR WORK CHRISTMAS PARTY 
Of course if you really want to create the right kind of atmosphere this Christmas hiring the right entertainment is key! Look for a band that can provide a bespoke service, offering everything you need in one package. 
Can your function band keep a mix of people dancing all night? From Barry in IT who likes his Indie hits, to Beryl in accounts who wants to hear Motown classics. A good function band should be able to take one look at your audience and change their set list to suit your guests. 
Can they play late night party sets and live lounge acoustic sets during the corporate Christmas meal? 
Do they offer dazzling party music with a DJing service included, taking requests deep into the mulled wine hazy night? 
Here at Late Last Night we offer all of the above plus much more including learning specific Christmas tunes of your choice! Get in touch to make your end of year get together something that will be talked about long after the sleigh bells have stopped ringing.